How Would You Feel
If You

NEVER

 Missed
Another Workout?
How proud…how healthy…how vibrant would you feel if you never skipped a day of Pilates? Could you even imagine?
I know it sounds too good to be true. But could you even imagine how youthful you'd feel…how proud you'd be of your body…how satisfying your life would be?
Now, I know: Some days are so crowded, you can't spare a minute. Some days, "life" happens and your routine gets thrown off. Some days you're just so exhausted that you can't imagine doing Pilates before your head hits the pillow.
But the simple art of exercising daily is the secret to shedding belly fat faster than you can blink…the secret to building self-confidence so strong, no bad day can break it…the secret to feeling so proud of yourself that you can't even stand it.
And the secret to never missing another workout is so simple, so obvious…you're going to kick yourself right in the pants:
The Secret To Exercising,
Every Single Day Is…
…Making doing Pilates easy on the days when everything else is hard.
That's all there is to it.
There will be days that you can't spare thirty minutes. But there's no day where you can't spare thirty short seconds.
Studies show that as long as you do thirsty seconds of something, every day, you keep on building the habit. And so…on the days where you have more time…you will be excited and motivated to do it!
And…if you can do thirty seconds…you can often do ten, short minutes, too: You can fit in ten minutes, before bed. You can fit in ten minutes, before work. You can even fit in ten minutes, during lunch.
Which is why I created a ten minute Pilates program; which gives you all the tummy trimming benefits of your Bodyweight Pilates program. (And yet it takes only a fraction of the time.)
I call it 10×10 Pilates because it's 10 Pilates exercises in 10 short minutes.
And I'd like to share 10×10 Pilates with you, today:
How to Get A Complete Pilates Workout
In 10, Short Minutes…
The secret is the ten exercises: They are full body exercises. Which means they hit every major muscle group at the same time!
This cuts your Pilates time into pieces!
And it means you get all the benefits of your Bodyweight Pilates program in a fraction of the time. (When life gets in the way.)
You get: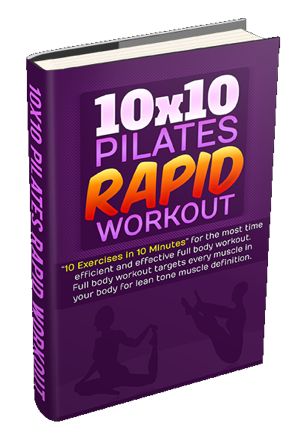 10×10 Pilates Rapid Workout
($50 Value)
10 Full Bodyweight Exercises for

FAST Effective Results

!
Target the most stubborn hard to firm areas.
Add these to your current workout or simply on their own.
QUICK and Easy for the Busiest Schedule.
PLUS; 

You'll Get It All on Video…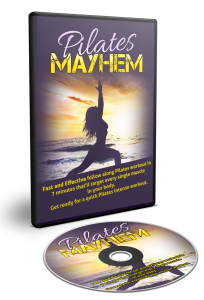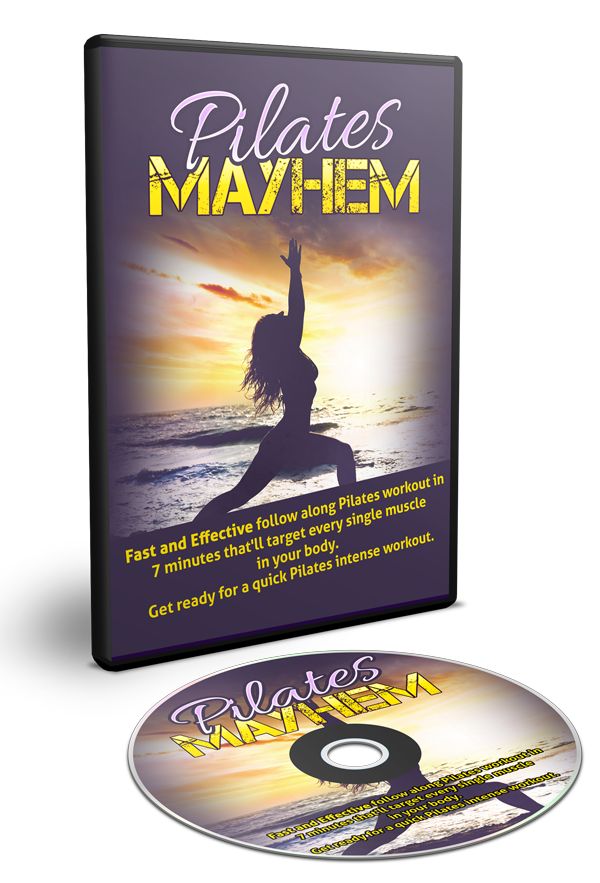 Pilates Mayhem ($27 Value)
7-Minute Follow Along Workout Video
Do Anytime, Anywhere
Increase your energy and eliminate stress with the 7-Minute short Pilates follow-along workout video.
I know some of us like to follow along, rather than follow instructions. So I created an even quicker, seven minute program. And I put it all on a easy access video.
So you can open up your laptop, your desktop or on your mobile device. And you can fit a full Pilates workout into your day in only 7 minutes from anywhere.
This is a great workout for waking up, full of energy. This is a great way to eliminate stress, after work. And this is a great "retreat" to reset, when your home life – no matter how incredible! – takes up all your energy.
A Total Value of $77- 
But You

Save

More Than $50!!!
Together, 10×10 Pilates and the seven minute Pilates Mayhem retail for more than $77! (Just think of how expensive those Pilates books are at Barnes & Nobles…or how expensive the studio sessions are!)
But you won't pay 77. You won't even pay half that.
If you take home 10×10 Pilates today, you will also save more than $50. Because you can take home 10×10 Pilates for just $19.
That's $19 for Pilates workouts you can fit into any busy schedule. (You need just seven, short minutes)
That's $19 for the pride, the satisfaction and the self confidence you have when you know you've done your workout every day, no matter what.
And that's $19 you are absolutely guaranteed to love, or your money back: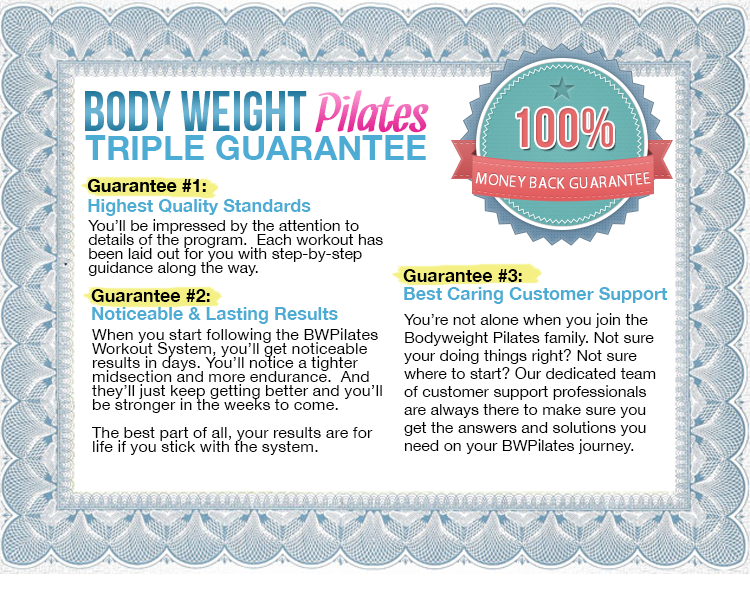 As you can see, you get a great value and fantastic savings – but only if you take me up on this offer, today.
You will never see this offer again…and…if you click off this page…you lose this +$50 discount, forever.
That's to make it fair to everyone else who sees this page.
Click on "Buy Now!" button below to try 10×10 Pilates, and never again miss a workout.

I know 10×10 Pilates will give me everything I need to never miss another workout!
I will enjoy the pride, the youthful appearance and I will even get The Pilates Mayhem seven minute video program. All this and I'll save more than fifty dollars!
$77.00 Today only
$19
Yes! I Want To Never Miss A Workout >>>


No thanks. I understand this is my only opportunity to get access to this information and I'm okay with missing out, event at today's HUGE discount. I understand that after declining this offer, the 10×10 Rapid Pilates workout an Pilates Mayhem may never be made available to me again at any price, even if I wish to pay more. I will pass on this forever.
---
ClickBank is the retailer of products on this site. CLICKBANK® is a registered trademark of Click Sales, Inc., a Delaware corporation located at 917 S. Lusk Street, Suite 200, Boise Idaho, 83706, USA and used by permission. ClickBank's role as retailer does not constitute an endorsement, approval or review of these products or any claim, statement or opinion used in promotion of these products.