Here's Your Second Chance To Take Advantage Of The Pilates Ab Blueprint, The Done-For-You Quick Reference Guide To A Tight, Sexy Lean Midsection!
Your Pilates Core Finisher To Any Workout!
You've already picked up your Body Weight Pilates workouts, which include full body, upper and lower body exercises. But without some kind of quick reference to Pilates Abs blueprint how far can you take your progress? The truth is without continuing to do Pilates ab exercises, an Ab Cross will be just another simple ole sit up!
What if you can print a quick blue print to keeping your Abs looking good and sexy with the Pilates Ab Blueprint?
How easy would that be?
Your Battle Against A Flabby Midsection Ends Here…
Here's what you've already claimed…

Component #1
($87.99 Value)

31 Body Weight Core Pilates

Component #2
($27.99 Value)
11 Upper Body-Body Weight Pilates Moves

Component #3
($27.99 Value)

11 Lower Body-Body Weight Pilates Moves
PLUS FREE Bonus…
Pilates Core-V System

With this "Second Chance" Special Offer You Get
"Pilates Ab Blueprint"

Pilates Ab Blue Print
(

$47 Value)
Your step-by-step guide to redesigning your midsection and flatten your abs with the top Pilates core moves.
14 illustrated Pilates Ab exercises that you can easily plug in to your workouts and get a lean tight toned midsection.
Aren't you worth it?
When you act now, you are that much closer to your fitness goal of being leaner, slimmer, firmer and stronger with the Body Weight Pilates System and the Pilates Ab Blueprint, Plus the free bonus gifts!
You could pay up to $174 for the "Body Weight Pilates" system and the "Pilates Ab Blueprint" , but you wont be paying anywhere near that!
For just and additional $19.00 you'll get my Body Weight Pilates System along with the Pilates Abs Blueprint (and all the cool bonuses!), which makes the most complete Done-For-You Pilates body toning system out there!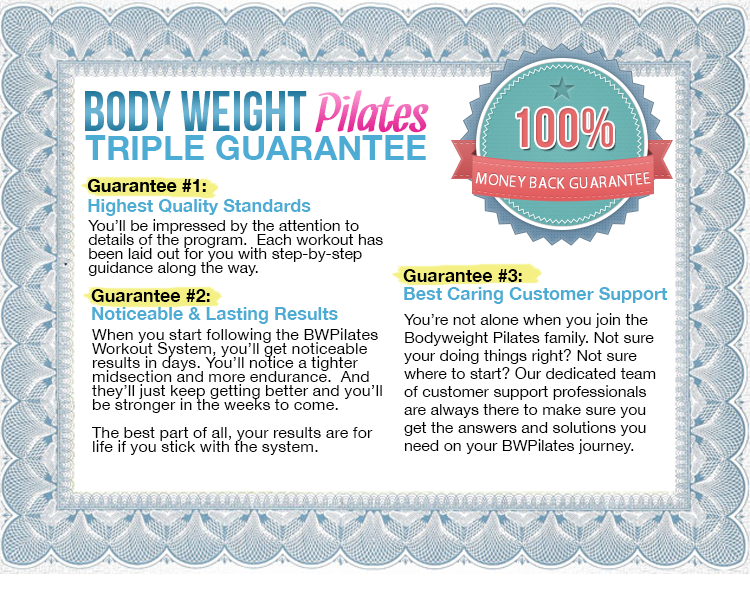 As you can see, the value of the Pilates Ab Blueprint is a whopping $47.00!
But once again, because I know how important it is for you to maintain a strong core no matter what your daily activities are. I want to offer you the Pilates Ab Blueprint not for $47.00, but at 75% OFF retail rate.
$47.00
Today Only
$19
Yes! Add the Pilates Ab Blueprint to my order at a full 75% OFF, Just $19!