Wait! You Need the Pilates Ab Blueprint The Done-For-You Quick Reference Guide To A Tight, Sexy Lean Midsection!!
Sylvia here! I want to Thank YOU and Congratulate you on taking the the next step to living a healthier and more active life. You now have your Body Weight Pilates workouts,  which is a jam packed system of 31 illustrated Core exercises plus, upper and lower body exercises.
PLUS…your Convenient Workout Calendars, specifically designed to suit your fitness level, beginner, Intermediate or Advanced workouts.
But I wanted to make sure you have some kind of quick reference you can carry in your pocket. So I designed the Pilates Abs blueprint which is series of short Pilates Abs exercises that's simple to combine with you Bodyweight Pilates System.
Why do I suggest this blueprint? The truth is without consistent change and variation to your Ab exercises you'll notice the goal to getting slim toned abs will take forever.
With the Blueprint you are constantly challenged as you keep your Abs guessing as to how they will be trained that day. Slim, Toned, Sexy Tummy happens only when you add variety to your daily routine.
What if you can print a quick blue print to getting Sexy, Toned Abs?
How easy would that be?
Your Battle Against A Flabby Midsection Ends Here…
With this ONE Time Special Offer You Get
"Pilates Ab Blueprint"

Pilates Ab Blue Print
(

$47 Value)
Your step-by-step guide to redesigning your midsection and flatten your abs with the top Pilates core moves.
14 illustrated Pilates Ab exercises that you can easily plug in to your workouts and get a lean tight toned midsection.
Aren't you worth it?
When you act now, you are that much closer to your fitness goal of being leaner, slimmer, firmer and stronger with the Body Weight Pilates System and the Pilates Ab Blueprint, Plus the free bonus gifts!
You could pay up to $174 for the "Body Weight Pilates" system and the "Pilates Ab Blueprint" , but you wont be paying anywhere near that!
For just and additional $19.00 you'll get my Body Weight Pilates System along with the Pilates Abs Blueprint (and all the cool bonuses!), which makes the most complete Done-For-You Pilates body toning system out there!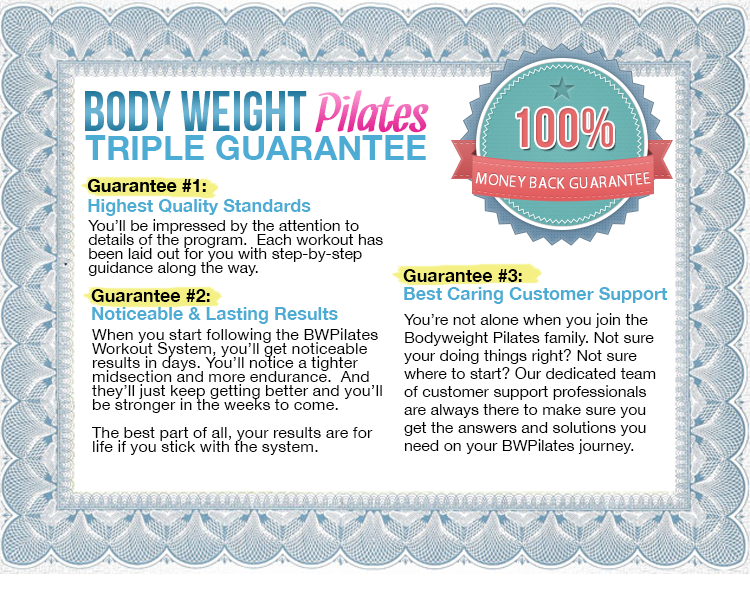 As you can see, the value of the Pilates Ab Blueprint is a whopping $47.00!
But once again, because I know how important it is for you to maintain a strong core no matter what your daily activities are. I want to offer you the Pilates Ab Blueprint not for $47.00, but at 60% OFF retail rate.
$47.00
Today Only 
$19
Yes! Add the Pilates Ab Blueprint to my order at a full 60% OFF, Just $19!
No thanks. I understand that this is my only opportunity to get access to this information and I'm okay with missing out, even at today's HUGE discount. I understand that after declining this offer, the Pilates Ab Blueprint may never be made available to me again at any price, even if I wish to pay more. I will miss this offer forever.