WAIT!

 Before you go…I want to address the elephant in the room…
Does Pilates Really Make You
Better In Bed?
It's never really talked about…but…this is the secret reason why
female celebrities LOVE Pilates…
We all want a satisfying love life. I'm just going to put it out there.
And…like it or not…most of us know we could get more from our love life. More intimacy. More connection. More romance.
My students find Pilates helps them get all of this – and more. For one, simple reason…
Flexibility!
A group of researchers released a study to the Journal of Sexual Medicine. They discovered they could tell if a woman had a satisfying love life – or not by the way she walked.
They just looked at the way she walked. They didn't use any fancy devices. Yet they were able to tell – with a stunning 81% accuracy – if a woman was having regular, satisfying orgasms during sex.
Their secret? They discovered that the muscles surrounding your pelvis and your lower back decide whether you can have an orgasm…and how easily you can have one. (No matter whether your partner is talented or not.)
If you have tight muscles, those muscles "block" you from experiencing the pleasure that is your birthright, as a woman.
However, if your muscles are flexible, the pleasure simply "flows" right through them. Which gives you and your partner deeper satisfaction.
When I discovered this, I literally yelled out loud! Because my clients have been telling me this, for years: Pilates gives you a better sex life…
Pilates gives you more energy and stamina…Pilates increases your blood flow to all parts of your body…Pilates stimulates and strengthens the muscles of your hips, your lower back and inner thighs…
…And it comes together in a unique way to simply make your body move in a way which feels better to you and to your partner.
This better love making is one of the reasons female celebrities secretly worship their Pilates instructors. And it's the secret reason many couples are happier, healthier and stronger than ever (once one partner takes up Pilates.)
Trouble Is…Most People Are Far More Stiff
Than They Think!
…And so they take months, even years to fully "open up". To fully enjoy the love-producing benefits of a regular Pilates program.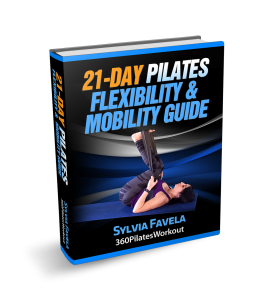 This stiffness "hides" itself in the muscles stiff people can't feel: Your inner hips. Your Hip flexors. Your lower back. And other place that take ages to loosen up.
That's why I created a program specifically designed to open up tight muscles and give you greater flexibility.
(Which…my clients have discovered…gives you better posture and greater love making, too.)
I call this program "The 21-Day Flexibility & Mobility Guide." And it completely opens up your hips, your lower back, your shoulders and other "problem areas", in three, short weeks.
Want to know the best part?
This Love-Making
Miracle Cure
Takes Only
FIVE MINUTES

A Day…

That's right: You can enjoy better love making, greater flexibility, less neck, back and hip tension…less soreness and pain form exercise…and some fun intimacy with your partner in only five minutes a day.

The trick is when you do it. (I reveal that in the program) And also the exercises you do. (Which I obviously reveal, as well.)

Think about it: How much time do you spend making yourself feel desirable? And what makes you feel more desirable than a happy partner and satisfying love life?

Isn't that worth five minutes of your time?

If it is, I'd like to make you gasp one more time. Because this 21-day flexibility program is priced so low, you're never going to believe it:
You
Save

More Than $50!!

I used to sell this program for $87 and my clients loved it. (For obvious reasons.)

But because you're a new "Pilates convert," I am going to give you a one-time discount of more than $50!

This means you can have better flexibility…better sex…and feel better about yourself for the low price of $27.

That's just a little more than a dollar per day, while you're on the program. And you can repeat it as many times as you'd like – for free.

I know it's not something you typically exercise for. And I know the results are kind of unconventional. That's why you also get a 21-Day Money-Back Satisfaction Guarantee.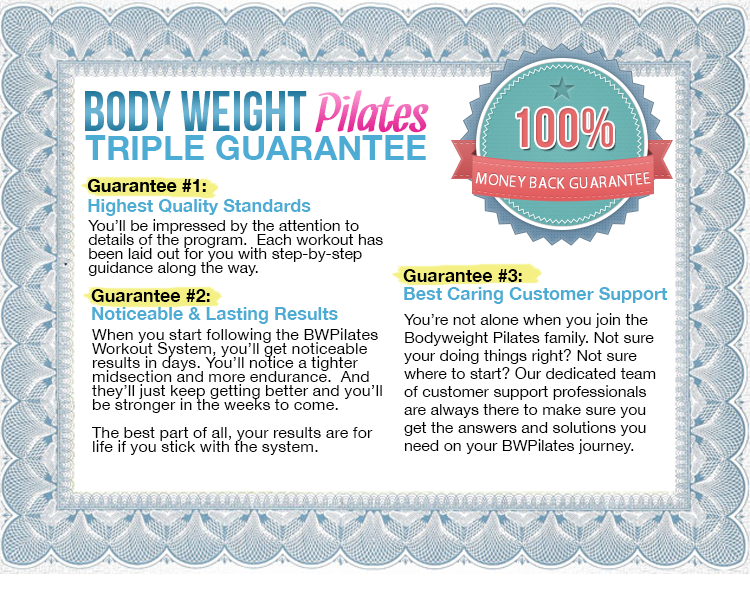 As you can see, you get a great value and a fantastic savings – but only if you take me up on this offer, today.
You will never see this offer again…and…if you click off this page…you lose this $50+ discount, forever.
That's to make it fair to everyone else who sees this page.
Click the "Buy Now!" button below to try my 21-Day Flexibility & Mobility Guide, and have a more flexible, fulfilling love life.

I know your 21-Day Flexibility & Mobility Guide will give me everything I need to open my hips and improve my love life dramatically!
I will enjoy the pleasure, the pride and the relationship satisfaction of a woman who deserves to be happy. All this and I'll save more than fifty dollars!
$87.00 Today Only
$27.00

Yes! I Want To Never Miss A Workout >>>
No thanks. I understand that this is my only opportunity to get access to this information and I'm okay with missing out, even at today's HUGE discount. I understand that after declining this offer, the Pilates for Flexibility may not be made available to me again at any price, even if I wish to pay more.
I will pass on this forever.
ClickBank is the retailer of products on this site. CLICKBANK® is a registered trademark of Click Sales, Inc., a Delaware corporation located at 917 S. Lusk Street, Suite 200, Boise Idaho, 83706, USA and used by permission. ClickBank's role as retailer does not constitute an endorsement, approval or review of these products or any claim, statement or opinion used in promotion of these products.