ATTENTION: Women who want a firm and tight tummy in as little as 12 minutes a day without starving yourself!
Discover The

ZERO

Equipment Body Weight System Designed To Quickly Strengthen Your Core, Tighten Your Physique And Slim Your Body In

Just 21 Days

!
All In The Privacy Of Your Own Home, On Your Time Without Unrealistic Dieting
Better yet, you can do it without walking into Expensive Studios, Crowded Smelly Gyms, Expensive Lotions or Creams, Fad Dieting or Ridiculous Body Wraps
Did you know you can reshape your body without wasting long hours doing boring cardio?
You can totally reshape your body with jaw dropping results without ever having to step into an over crowded gym on a boring treadmill.
This has been the well-guarded secret to getting lean and fit in a minimal amount of time. Save time and have fun by keeping your body moving and challenged to prevent your body from plateauing.
Did you know you could lose weight, completely tone and reshape your body, and even become more youthful looking in the next 3 weeks?
...without starving yourself with painful restrictive diets and ruining your metabolism.
It's absurd and unrealistic to starve yourself into losing weight and tighten your body. It actually has the reverse effect. You ruin your metabolism by radically changing your eating and workout if you don't know how to set it up strategically.
What if you could experience those jaw dropping results without:
You Don't Ever have to step into a smelly, overcrowded gym
You Don't Have to starve yourself on lettuce or "liquid only" fad detoxes.
Plus…You Don't need any fancy equipment or pricey gym membership fees.
And.. You Don't have to risk Surgery to get a flat belly
And what if you could do it in less than 12 minutes a day?
The TRUTH is… YOU CAN!
In fact, this has been one of the most the well-guarded secrets of many of today's top celebrities and it has allowed them to get lean, fit and younger looking in a minimal amount of time.
Now, that may sound too good to be true… yet just imagine the supremely satisfying confidence that will come when you finally fit into those favorite jeans… and all of your other clothes that have been waiting in the back of your closet for "one day."
Plus, the Ultimate Bonus:
Constant, sustained energy all day long without having to do hours of mind numbing cardio ever again…
Why Traditional Fitness And Exercise Is So Bad For Most People
Unfortunately, many of today's exercises are designed to create a sexy and tight looking "exterior" appearance.
Yet it provides you with very little support or development of your "inner core".
It's kind of like repainting an old car. When you're done… it sure is shiny… yet what's the point if all the bolts that hold the frame together are rusted and decayed?
Eventually… something will give way.
This is also very true with your own body.
What's the point of looking lean and toned if your knees hurt every time you stand up? Or having your back go out when you simply bend over to pick something up?
No, it's not Easy by any means… I've heard many people say, "Oh Pilates it's easy and not a real workout". That's what they would say until one workout with me…. then that all changed.
The foundation of all great structures, buildings and bodies alike, is a strong, stable core.
If you want a nice tight tummy and a shapely, functional body then this system is not just an option for you…
It is the only option for you!
I learned this the hard way and I've made it my mission to help others learn from my painful mistakes.
And here is the shocking truth:
Too Many Crunches Are BAD For You!
Have you ever woken up with a tight, sore neck and shoulders?
Unless you've been in an accident, chances are that pain comes from when you are doing too many crunches with bad form.
When you do that… you actually create tension, wear and tear on the joints that need the support the most.
They definitely aren't providing the necessary foundation and strength your body craves and needs.
However, recent studies reveal that the use of Pilates actually strengthens and tones your muscles that need it most…
While also helping to reduce the pain associated with improper forms of exercise.
In 2012, a study was published in the Journal of Orthopedic & Sports Physical proved that a group of 96 participant's whom attended Pilates sessions over the course of 8 weeks showed a 54% drastic improvement in core strength, muscle endurance and reduced low back pain.
In Pilates, the focus is on the effective recruitment of motor units that places the emphasis on energy efficient, quality performance.
In other words, you get more "bang" for your Exercising Buck!
It's Quantity vs Quantity.
You've got limited time in your busy schedule.
Why waste it on exercises that can create neck pain, a bad headache or serious shoulder and back problems?
Turns out, there are PLENTY of medical studies that agree:
Pilates improves muscle endurance, flexibility, balance and posture

Pilates-based exercise provides superior pain relief

Pilates training programs [are] effective in improving abdominal strength and upper spine posture

Pilates [has] beneficial effects in terms of decreasing low back pain and disability

Results support the use of Pilates in the prevention of neck and shoulder disorders.
Pilates not only sets your body up with an optimal foundation for any taxing workouts, it also enables the restoration of muscle balance and aids in the recovery process.
What The Heck Is Pilates Anyway?
The main goal of Pilates is to return your body to a functional level of health, strength and fitness.
Pilates exercises are designed to increase your muscular strength and endurance while improving flexibility. This will greatly improve your posture and balance. This unique method fits the health and fitness guidelines set forth by the U.S. Surgeon General and the American College of Sports medicine.
Each exercises is initiated by stabilizing the core musculature, which includes the abdominal, gluteal and paraspinal muscles in particular, and follows through a controlled range of motion.
With The BWPilates System You'll Experience...
A Lean, Toned, Attractive Physique (even IF you've never exercised a day in your life!)

A Strong Sexy Belly

Increased Metabolism (Burn off dimply cellulite around your belly hips or thighs while you sleep)

A Strong Body from the inside out

Energizing Fun Workouts (Easily completes in less than 12 minutes!)

Effortless Energy To Keep Up with Daily Activities

Short & Effective Workouts

Effortlessly Keep up with Daily Activities
The "Sexier" Choice.
So, you've tried dozens of traditional exercises to assist you in tightening up your waistline in the hopes of a lean, sleek physique.
But, then you notice your midsection starting to look similar to a square box rather than a svelte to die for waistline.
This all stops today because our cutting edge BW Pilates system incorporates a sexier theme to your daily fitness routine?
One of the common traits you'll notice when you see someone who practices Pilates on a daily basis is a sleek sexy physique. Just look at any one of today's top Sexy celebrities and you'll find their workout involves a daily regimen of Pilates.
Pilates targets your deepest abdominal muscles known as TA muscles (transverses abdominus). These deep muscles are the primary movers and act as your body's natural corset, cinching in the core to protect the spine every time you move.
Did I mention you'll be moving 10xs better with the Pilates system than if you didn't add it to your regular routine?
Is Pilates too "Easy" to be a Real Workout?
No, it's not Easy by any means… I've heard many people say, "Oh Pilates it's easy and not a real workout". That's what they would say until one workout with me…. then that all changed.
However, with my Body Weight Pilates™ I've tapped into a unique approach of Pilates where I combine intense, varied controlled movements for a whole body transformation experience.
When you focus on training all the small intricate muscles that support you…plus integrate the correct body positioning…the effect is empowering.
I'm not about to force Pilates on you. I am, However…going to tell you that all the working out you are doing, (that is if you are currently exercising) having muscle endurance and a strong core is the foundation of a strong body.
Imagine living in a house knowing that there was no foundation built. There's only a bottom frame and 3 x 4′s holding up the side of the walls.
Would you feel safe? The walls can cave in on you at any time
So, why would you build muscle and not address or focus on core strength?
Oh, and by the way, building core strength and sustained muscle endurance to speed up your metabolism doesn't mean knocking out 100 sit-ups!
2 Reasons Why the Body Weight Pilates™ System is the Perfect Body Weight Workout for YOU
Get Sexy Defined Abs.
Imagine when you can Visibly SEE sleek, slender and sexy looking belly!
Body Weight Pilates™ gives you the edge to staying healthy, strong and active for life.
Having a desirable midsection is just one of the many benefits of these core strengthening moves.
And besides stunning "Abs for Show", you can also back it up with a strong core. .
Whether or not you are currently active or have never exercised a day in your life, with the BWPilates system you'll build the strength needed for strong, noticeable abs.
Staying Active and Agile
What does that mean, right? How many times have you had to get a massage, visit a chiropractor and/or a physical therapist because you're stiff and in pain.
In fact, when I asked several chiropractor and physical therapy friends what they prescribe the most to their patients… the answer was to improve muscle strength and core strength.
How would it feel to never have to tense up when you bend over to pick up your kid or something on the floor and nothing is pulling on your back because of all the core body weight Pilates exercises!
Body Weight Pilates™ will help you to develop stronger abdominal muscles, protect your back and leads to an overall healthier body.
It's no wonder strengthening the core is viewed by many to be the cure to most common body aliments.
Who Am I And How Did I Discover These Inside Secrets…
The proof is in the pictures, right?
Here is me BEFORE Body Weight Pilates™… and after…
When I stumbled upon the Body Weight Pilates™ method and applied it, I lost 43 pounds of excess weight from being pregnant.
My energy and physical performance is better now than it was in my twenties.
Today, I'm healthier, have visible fit abs and a lean toned physique.
I share that with you so you know that I really do practice what I preach.
I've helped over hundreds women and men in there 30's, 40's and well into their 50's get healthy, moving and in shape.
That's why I developed the Body Weight Pilates™ system was so that regular folks just like you and me could enjoy these amazing health and weight loss benefits without having to mortgage our house.
Yet I also know that I can send you a box full of research that proves beyond a shadow of a doubt that this will work for you… and you'd still not be convinced.
Research and theory are one thing… what really matters is that it really works in the real world, with real people.
How My Worst Enemy the "Full Length Mirror" Led To My Discovery
Looking at that picture of me above…would you believe just a few years ago I was 43 pounds over weight? Miserable, sad and on the verge of giving up...
I was the chunky girl with a pear shaped body, wide hips, long, gangly arms and legs. With my scrawny arms, chubby belly, and squishy butt. You would think I was eating a dozen cupcakes a day. In short I was skinny and fat at the same time...
Overwhelmed with frustration, I avoided the full-length mirrors at all cost. Ever time I walked by a full-length mirror and caught a glimpse of myself I cringed. The bathrooms mirrors I had stopped right at my belly button and that was enough torture for me.
I desperately wanted to lose the weight. I wanted a fit belly and tight body so I did what everyone did… maybe you can relate.
…I headed to a big box gym and did the same old workout day after day…cardio for 1 hour then lifted weights. I was doing hundreds and hundreds of sit ups to strengthen my core to help ease the serious low back pain I was suffering from.
At my wits end, I was ready to give up!
After years of running and practically killing my knees I had to stop. Plus needless, squatting with weights for years put serious strain on my low back. By the time I had my son, my knees were shot, my back a mess. And I wasn't even 30 years old!
Then to make matters worse, I was in a severe car accident that caused a life long injury to my shoulder!
I was done for…I thought how in the world can I get in shape with these injuries plus I wasn't about to start taking pain medication.
I dabbled in Pilates as rehabilitation for my knee and back pain and was shocked with the results.
Not only was my pain gone but my physique changed drastically.
After working out in a gym for years my midsection was square, I don't know about you but I didn't want to look like a square box.. but… after doing the Pilates for rehab I simply couldn't believe the changes. My Abs changed, no more square shaped box.
You see, during my rehab process I stumbled upon a new unique bodyweight method. I strengthened my knee, sure. But to my surprise I also achieved the fit, lean and sexy core I've always dreamed about.
I had visible lean muscle definition in my arms, legs and my booty was lifted. PLUS, a Visible Sexy Toned Belly =) My body took on a new fit shape!
Finally…I had stumbled upon the "Insider Secret" I was searching for!
Introducing the Body Weight Pilates System
Designed to Tighten Your Belly,
Sculpt Long Lean Muscle….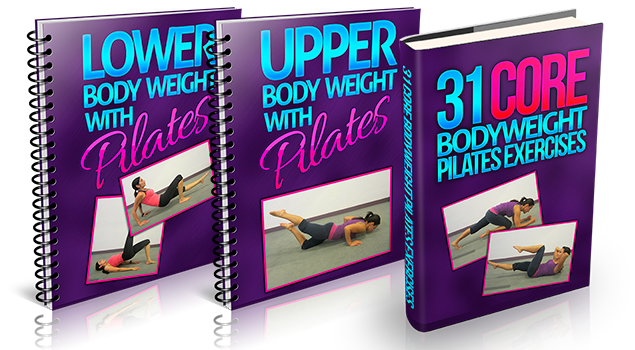 Body Weight Pilates™ Quick Start Guide & Checklist
Nothing is more frustrating than when you get a new program only to get overwhelmed with all the information and have no idea where to begin.
The next thing you know the product sits on the shelf and gathers dust because you don't use it.
But….That wont happen today!
The very first thing you receive is a complete program overview, along with an exact checklist of the steps to complete.
No second-guessing or trying to figure things out. All you have to do is read step one, do it, check it of and move on.
You'll be up and running to a newer you in no time flat!
PHASE 1:
Body Weight Pilates™ Core System
Everyone needs a place to begin and this module is it. You'll start off with 31 simple body weight exercises that will:
Strengthen your core
Improve your physical performance
Tone your physique
Redesign and sculpt a fit lean body
The Core system is delivered via easy-to-follow videos that you can take with you wherever you go.
You can even download them straight to your tablet or smart phone so you can watch them on the go.
PHASE 2:
Body Weight Pilates™ Sexy Upper Body
Once you've created your core foundation during phase 1, the next step is to really create that slender, fit, sexy upper body.
The great thing is that the Phase 2 exercises require zero-equipment. All you need is your own body weight to sculpt a lean, toned body no matter where you are.
PHASE 3:
Body Weight Pilates™ Lower Body
You've got the core foundation; you've built arms and shoulders that you feel confident in wearing a sleeveless top.
Now it's time to finish sculpting the master piece that is your booty with Phase 3: Lower Body Toned Booty.
Let's face it… when you're in a bikini what's the first thing anyone sees? That's right… it's your stomach and your butt.
If it's been years since you've had a killer "bikini butt", then you will absolutely LOVE this phase of your Body Weight Pilates™ System.
Fun and effective lower Body Weight Pilates™ exercises designed to be done anytime, anywhere.
Your own body provides the perfect amount of resistance to create the flat sexy stomach and toned booty you've always dreamed of.
By the end of the three Body Weight Pilates™ Phases you will have completely reset, reshaped and redesigned your body.
PLUS When You Claim Your Body Weight Pilates System You'll Receive This Limited Bonus Absolutely FREE….
Body Weight Pilates™
Workout Calendars
The beauty about the Body Weight Pilates™ System is that you will never be able to out grow it.
You see, with many fitness programs, after you do them for more than a month or two your body adjusts and you no longer get the results you did when you started.
However, with Body Weight Pilates™ it wont happen.
As your body adjusts to the new strength, flexibility and power that you create as you go through the program, you are able to easily modify the exercises. This will keep your body guessing and practically guarantees that you continually see results.
To assist you as you transition to a healthier, more energetic YOU, your program comes with three workout calendars. Each calendar takes you from total beginner through intermediate and into more advanced workouts that will last you a lifetime.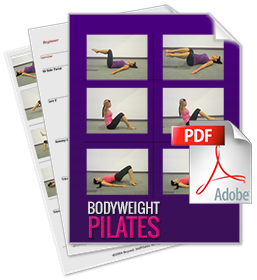 Body Weight Pilates™
Printable Worksheets
You get your Workout Guide, complete with printable workout sheets so you can take them with you Anytime, Anywhere.
I recommend to start on day one, regardless of your fitness level.
One of the biggest secrets to maintaining a healthy lifestyle is motivation. And nothing is more motivating than being able to visually see you progress by following along with the workout sheets.
Just like your workout calendars, you will find three different workout routines for Beginner, Intermediate and Advanced.
"I'm finally off my blood pressure and cholesterol medication."
"I've lost 50 Pounds!…I started to change my life around in the way I eat and exercise. I started to lose weight but then just couldn't lose any more.
Once I started Sylvia's program I noticed a difference just after 3 weeks and have since made even more progress. Her program has made the biggest impact on the way I look and feel today, I'm finally off my blood pressure and cholesterol medication."
Kim Miller
"I finally got the lean toned body I always wanted."
"I lost 20 pounds, dropped 2 pant sizes and I finally got the lean toned body I always wanted. I cannot thank Sylvia enough for training me and passing on her knowledge of Pilates. Showing me how to control my movements and make me more aware of my form and body completely transformed me and my workouts. I have had more success with attaining my goals than I ever thought possible!"
Lisa Liles
"After a few sessions I can already feel a difference"
"I am an ultra marathon runner and intensive care doctor. Unfortunately, I have a prolapsed disc. I bought the Body Weight Pilates in the hope of improving my core stability and overall flexibility. After a few sessions I could already feel a difference and my rehab had begun! Sylvia was available to assist me with questions and I was able to modify the workouts to support and strengthen my back."
Thank You!
Marc Romain
"10 days I have lost 4 pounds"
"I have been using the BW Pilates system for 10 days now. Prior to that, I used to exercise regularly – I used to do the Treadmill religiously for 30-40 minutes everyday except Sunday, for about 8 months. While I saw a reduction in weight in the first 2 months, and some increased strength and energy, I had definitely hit a plateau, and only continued the treadmill because it was where I read my magazines – on iPad, so it became a part of my routine.
On the 2nd day of using BW Pilates however, I started feeling muscular exhaustion in areas of me that I had never felt before. Most of the Pilates moves were difficult for me to achieve, and I followed the directions quite clearly – obviously I was only using the modified (less difficult) version of the moves, but within 4 days, I could clearly feel that I was definitely using parts of my core, sides in ways I had never done before.
In the past 10 days I have lost 4 pounds, and I also feel more flexible than before! I have also started attempting the poses the way they are meant to be done – i.e. without the beginner type modifications! I look forward to the improvements that continuous practice is bound to bring."
Aish Krishnan
Get The Insider Secrets My Clients Have Been Raving About...
Now you can now get the exact same blueprint my personal clients use to achieve a long, lean sculpted physique.
All without the fancy price of walking into my Pilates studio…Don't get me wrong, I have a waitlist of clients wanting to work with me even at the 1-on-1 person consultation rate.
You see, if you were to come and sit with me and have me design a tailored program just for you it would cost $350 per hour for us to sit down and work through a program that's if I have any spots opened. Plus, you would be flying out to Southern California and that trip alone can cost a pretty penny.
But…the good News is…You'll only pay a fraction of the cost with this limited time offer….with absolutely NO Risk on you =)
Listen, You Don't Need To Make A Decision Right Now…
That's why you can take FULL advantage of my Unconditional "Triple Guarantee", you see the results then you decide. I take all the risk, See for yourself how the Body Weight Pilates system can transform your physique over the next 60 days, or you pay nothing!
LIMITED Copies Will Be Sold At This Price
For a limited time we are discounting this system copies of the entire program for only a fraction of the cost.
You see, my web hosting company gave me a limited time deal to host all the content on their server so I want to hook you up with a special discount =)
That's why I'm offering a limited amount of copies to you today for only $15 bucks!
But seriously, I'd rather give it away for free but the measly $15 bucks for the program will cover the cost of web hosting and video hosting. That's less than a breakfast sandwich and coffee at Starbucks.
And before you go thinking, "Ya, right sure" it'll stay at $15 like some of those other fitness websites who straight out lie. I can tell you it will double in price. It just wouldn't be fair to my other loyal Pilates members who have taken advantage of this special offer.
Not to mention I don't BS! Not my style – Last time I BS's my mom threw her shoe at my head (it's a Mexican thing) so you can see why it's ingrained in my head =)
It's on a first come first serve basis…I'm not sure how much longer my web hosting company will realize they've given me a deal on their server!
Take Action Now and claim your copy of Bodyweight Pilates by clicking on the "Buy Now" button below and your special discount will automatically be applied.
Claim Your Copy of Bodyweight Pilates and Get Instant Access Today!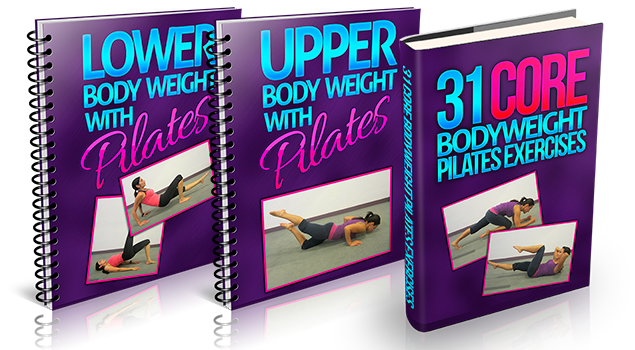 "Helping to improve my strength lifts"
"I received your Abs Pilates Cores System and I can honestly say that I am very happy.
I have spent many years training with weights and lately I'm training with a more functional, like Crossfit. Now I have incorporated your Abdominal Core Training System and Verdas I've noticed is that a good progression on strengthening my core area, and helping me to improve my strength lifts.
The truth is that I find very exceptional all exercises and the results are very positive."
Thank you very much,
Jose Ponseti
"Core class on steroids"
"I have it. Thank you. After reviewing the "manual" I see that it is what I was looking for. Your daily workouts are clearly circuit training. I have been involved in core classes at my gym. There I have been doing some of the same routines that you offer. I have achieved some wonderful results. What you just offered me is a core class on steroids. I realize this was from week 5. I'll be getting into this from the beginning. I can only imagine the results I can achieve by week 5 by doing this circuit 4 days a week. My class is one hour x three days a week. You are taking it to the next level."
Larry Page
"Was more sore than I have ever been"
"I got your email about a bonus workout. I got these specifically for my wife but I think I'm going to use them as well. I have only had the chance to do 1 workout so far but it convinced me that Pilates is not just for women. I was more sore than I have been after a workout in a long time"
Thanks,
Keith Pearl
"More mobile and strong in my hips"
"The primary attraction to the program being 6' 3" 292 lbs and 52 yrs old was flexibility. So far I'm noticeably more mobile and strong in my hips and my balance is improving . . . or rather restoring :) Good investment."
Thanks,
Geoff Bradley
"I'm loving the workouts…short and very sweet"
"I'm loving the workouts, the fact that they are short and very sweet means I always have time to do them, also motivates me to do them when I'm feeling a bit on the tired side. They make me feel so much more energized, I also feel as if I'm looking after, taking care of and cherishing my body instead of punishing it. Slow and intense can be as good if not better than fast and furious.
To sum up after my workouts I feel I've worked hard, energized and calm."
Thank you,
Mrs Karen McHenry.
"Challenging….Very Good Workout…Keep The Heart Rate Up"
"I bought your " Bodyweight Pilates" program only about one week ago. I did only three workouts so far: core, low body and upper body routines. I can say that I liked them a lot because of the following reasons:
1.They are challenging and they give a very good workout for the whole body. In each exercises abdominal and back muscles are engaged, which is additional bonus.
2. You do not need any equipment and they can be all done at home, therefore no gym membership is required.
3. They keep the heart rate up, so you get aerobic training in addition to strength training.
4. They are gentle for the body, I do not get any pulled muscles or joint injuries, like I always get when I train with heavy weights.
5. The workouts take only about 20 minutes to finish.
So I am very satisfied and excited about your program and looking forward to seeing my body shape changing form doing Pilates exercises on a regular basis."
Tanya Katsevich
Your friend,
Sylvia Favela
Creator of Body Weight Pilates™
P.S. Remember, your purchase is fully protected by Triple Guarantee. If you don't slim down, tone up or feel stronger and more energized, just let me know and I'll refund every penny.
P.P.S. You have no risk and nothing to lose. If you are not satisfied 100%, I'll immediately refund every single penny. No questions asked.
Your Price Today: $15
Frequently Asked Questions
Q: Can I use these as my primary workout?
A: These workouts are great when paired with your favorite workout. You can add them to your current workout. However, they are intense enough for you to do by themselves as your daily workout, 5 minutes a day.
Q: Will I need special equipment to perform these Pilates moves?
A: No, no fancy equipment is necessary. You can do them in the comfort of your own home or use your gym membership and head to the gym. Most of the core movements are body weight resistance.
Q: What if the Body Weight moves are too hard?
A: For every single core workout I show you an easier, modified version. You can tailor it to your fitness level. But, even the modified version is still challenging.
Your Price Today: $15
Q: What if I'm not in shape or a beginner? Don't I need to be in shape to do Body Weight Pilates workouts?
A: No way! You don't need to be in shape to get started or even know about Pilates. This detailed program will give you step-by-step instructions to completing every move.
Q: Is the Body Weight Pilates designed for only women, or can men do them, too?
A: Body Weight Core Pilates is a great tool for both women and men who want a strong defined core, strong body, muscle endurance, stunning looking abs and increased physical performance.
Q: How long will it take to get my product?
A: You will receive instant access where you can download your product in PDF format. You can start immediately!
Q: What if I'm not familiar and don't know an exercise?
A: No need to worry, you get photos and exercise descriptions of all the exercises in the manual and bonuses.
Your Price Today: $15